After School Program
Located in San Antonio, TX
We believe that education goes hand in hand with out great martial arts programs. We offer an unmatched after school program at World Taekwondo Center for San Antonio and surround areas.
What is a martial arts after school program?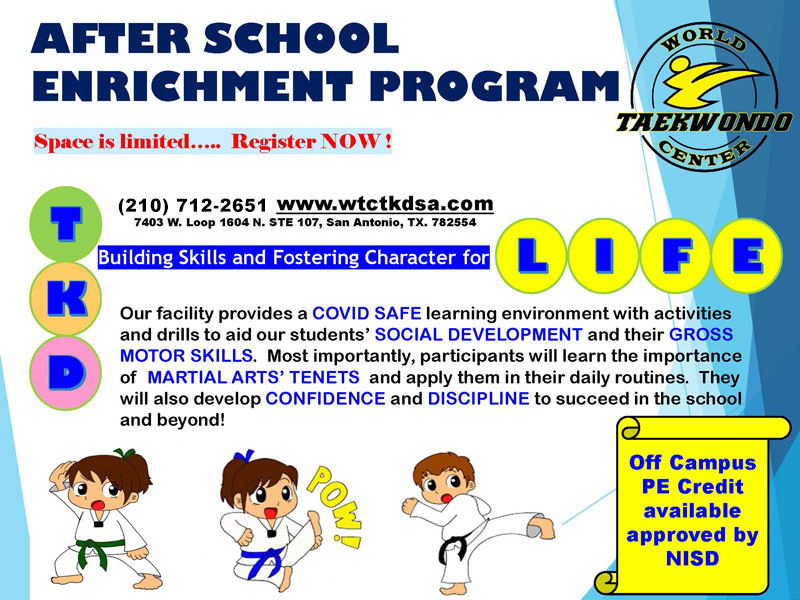 After School Program
Our After School Program offers a safe, fun, and encouraging learning environment in a one-stop location. After school, your child will be picked up and brought to our open and clean facility where they will receive the highest quality martial arts instruction, get in shape and burn off all that excess energy before you pick them up on your way home from work.
World Taekwondo Center offers an After School Taekwondo program with free pickup 5 days a week. All of our instructors aside from offering the best instruction and knowledge, are internationally certified Black Belts that are Safe Sport certified with a background check and fingerprinting through our National Governing Body for the Olympic Sport of Taekwondo, USA Taekwondo.
Have your child start their martial arts journey at World Taekwondo Center. Through martial arts, your child will learn respect and discipline, and build character.
We are currently offering this service to the following schools:
Students from all the above schools will be picked up and delivered to World Taekwondo Center within 30 minutes. They will change clothes, and have downtime to snack and socialize until 4:00 pm when Taekwondo class starts. At 4:45 pm class ends, students change clothes and wait for pickup, available until 6:00 pm. *Extended time request for an extra fee
Take our survey!
The start of the school year is right around the corner, we would like to survey our membership and see what the demands are so we can design our program properly. Please take a moment to complete this form and be noted that there is no commitment until we finalize the program.